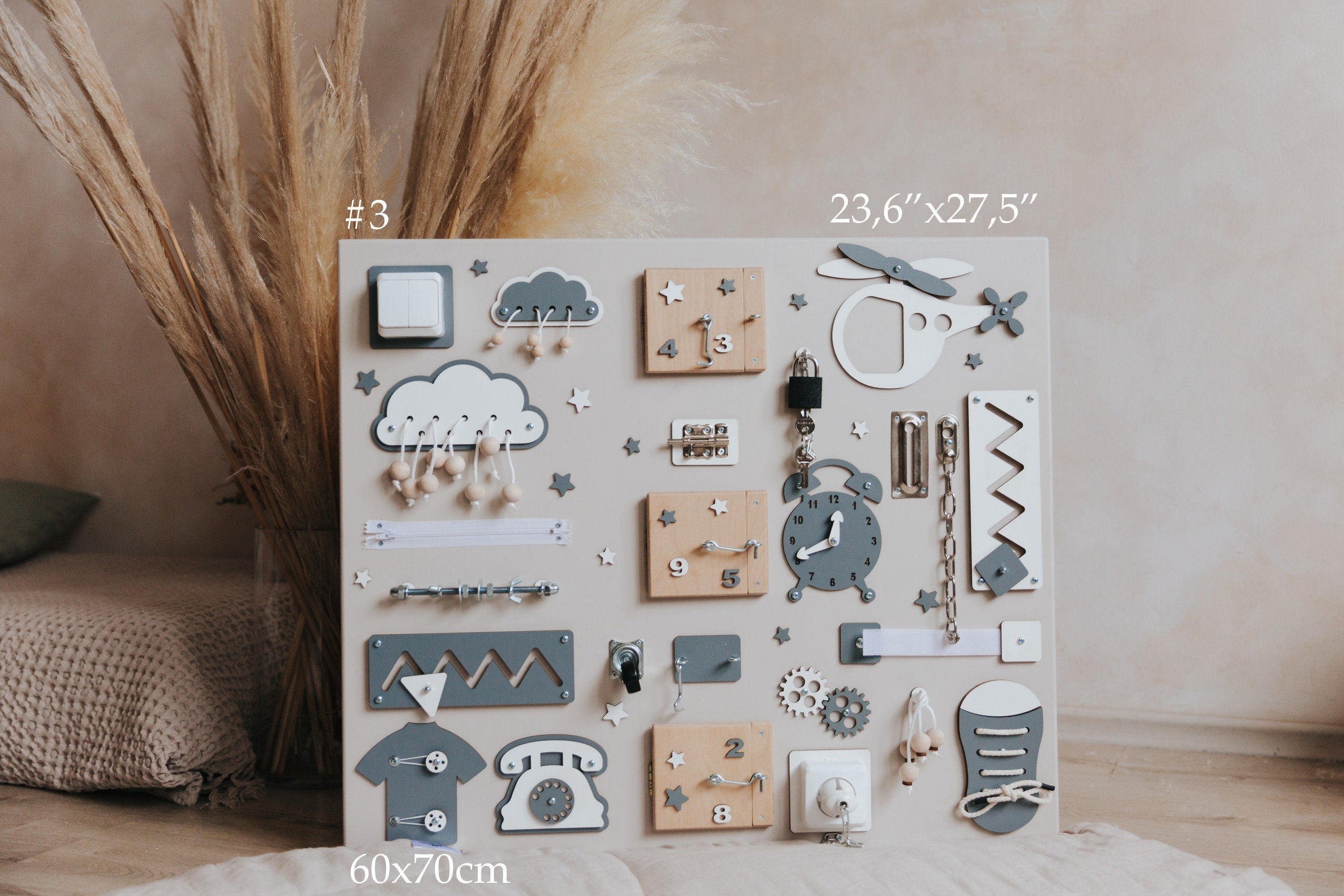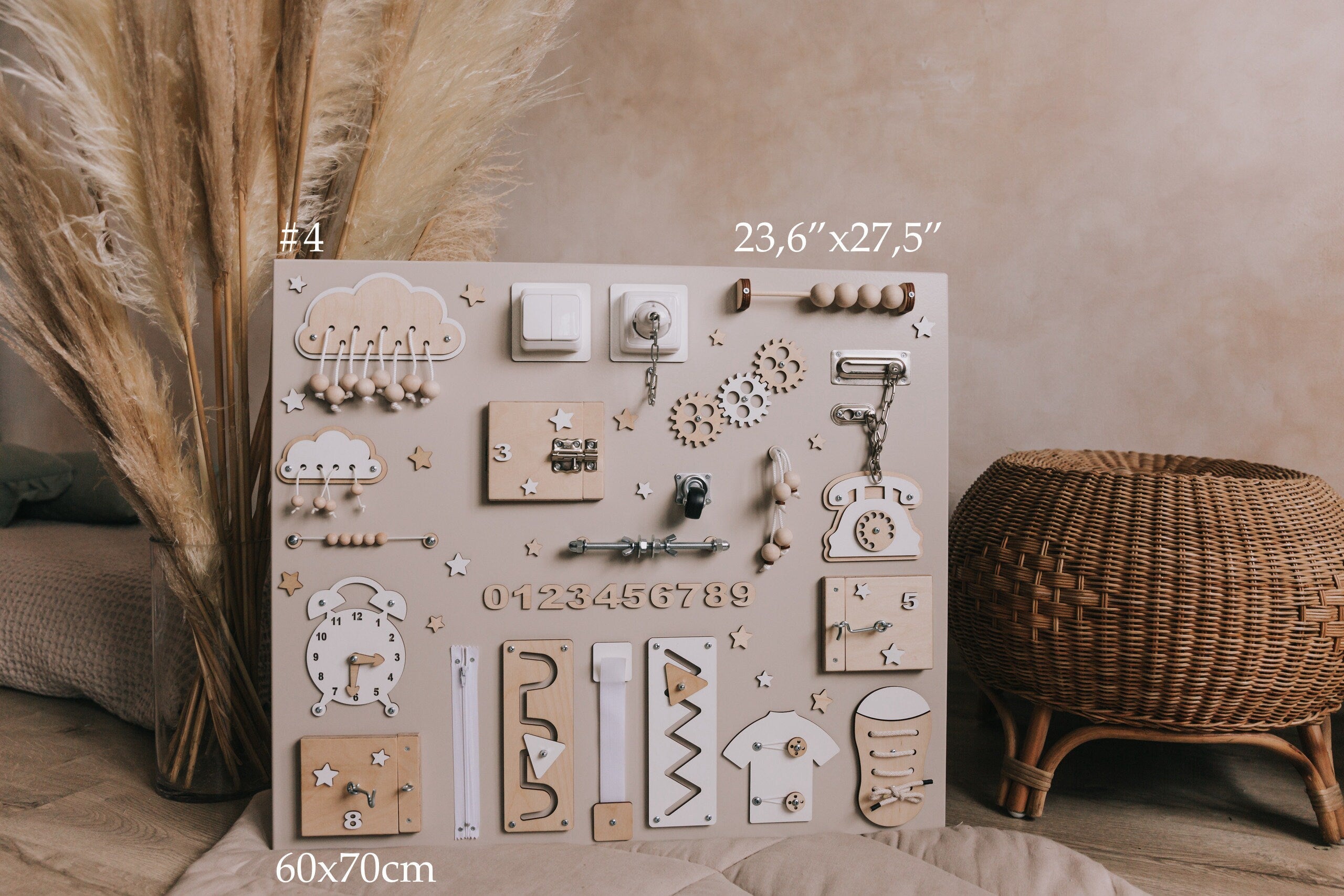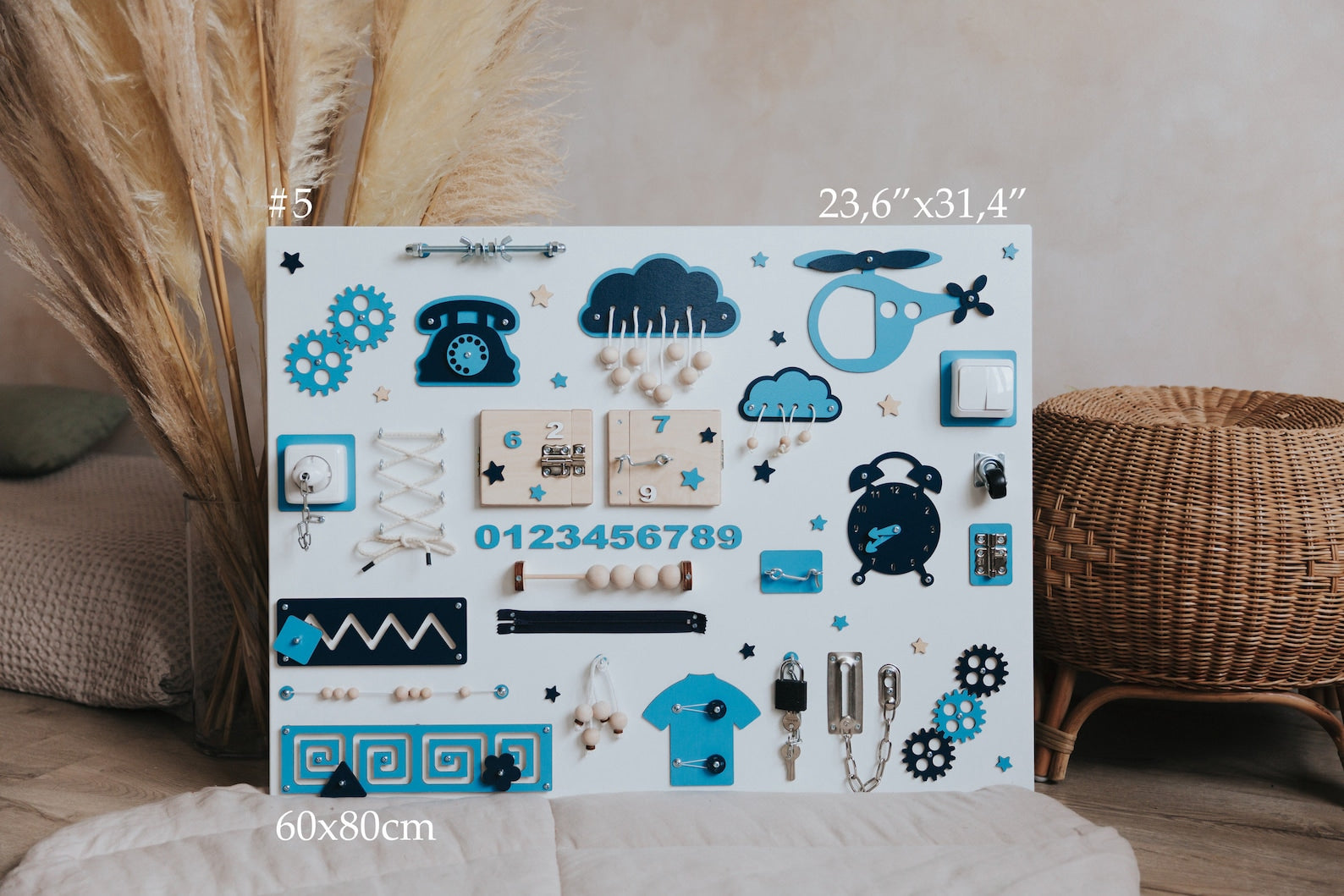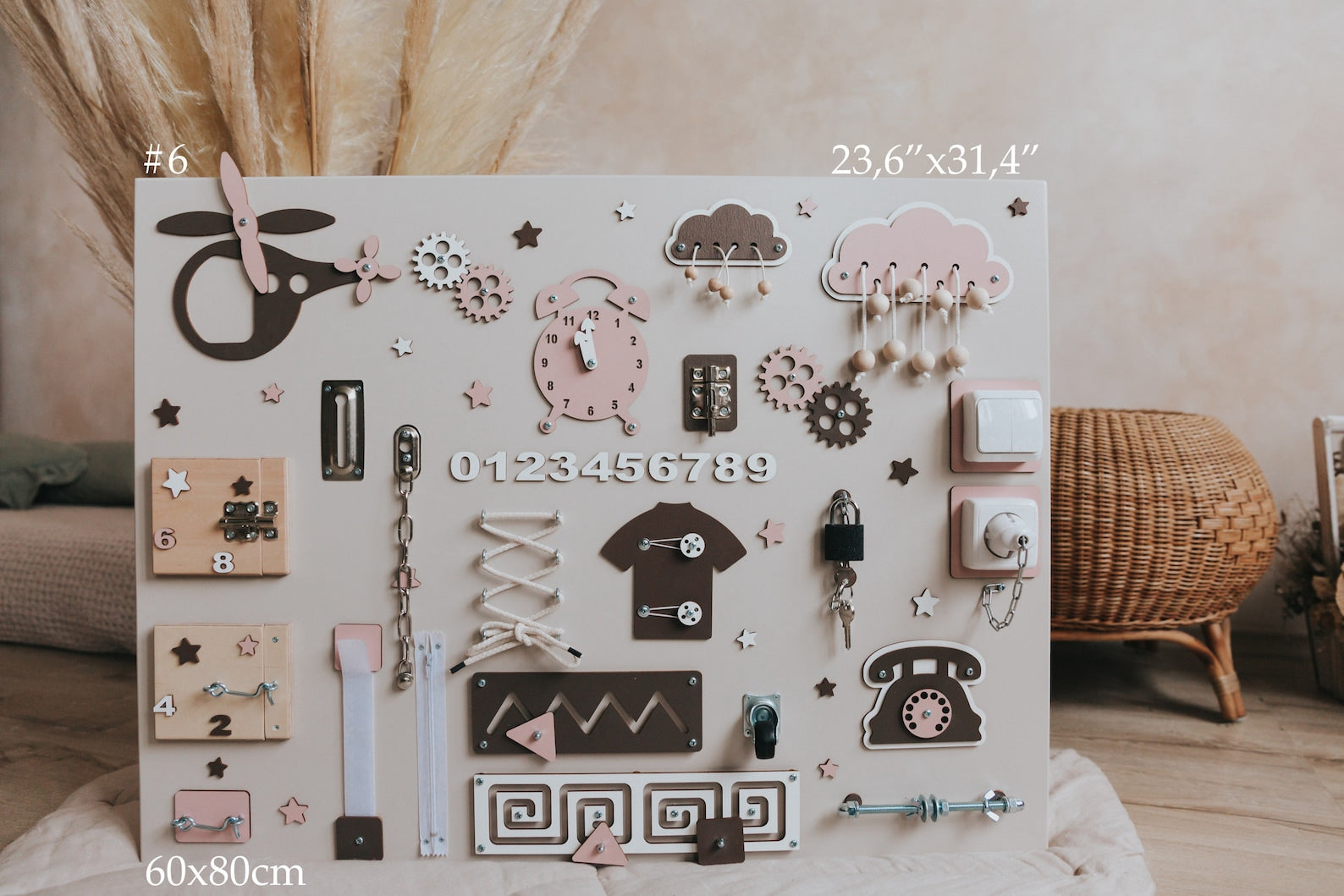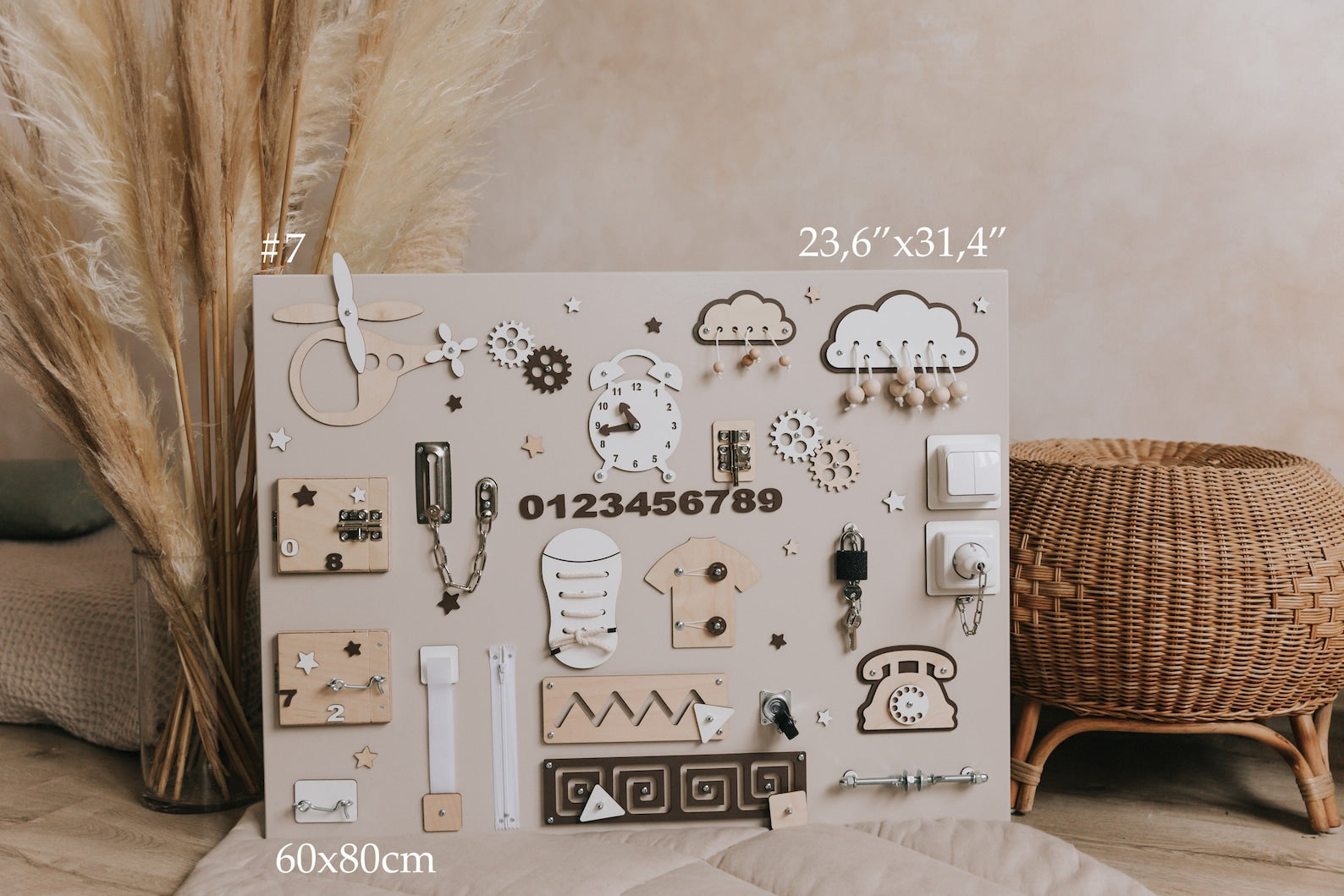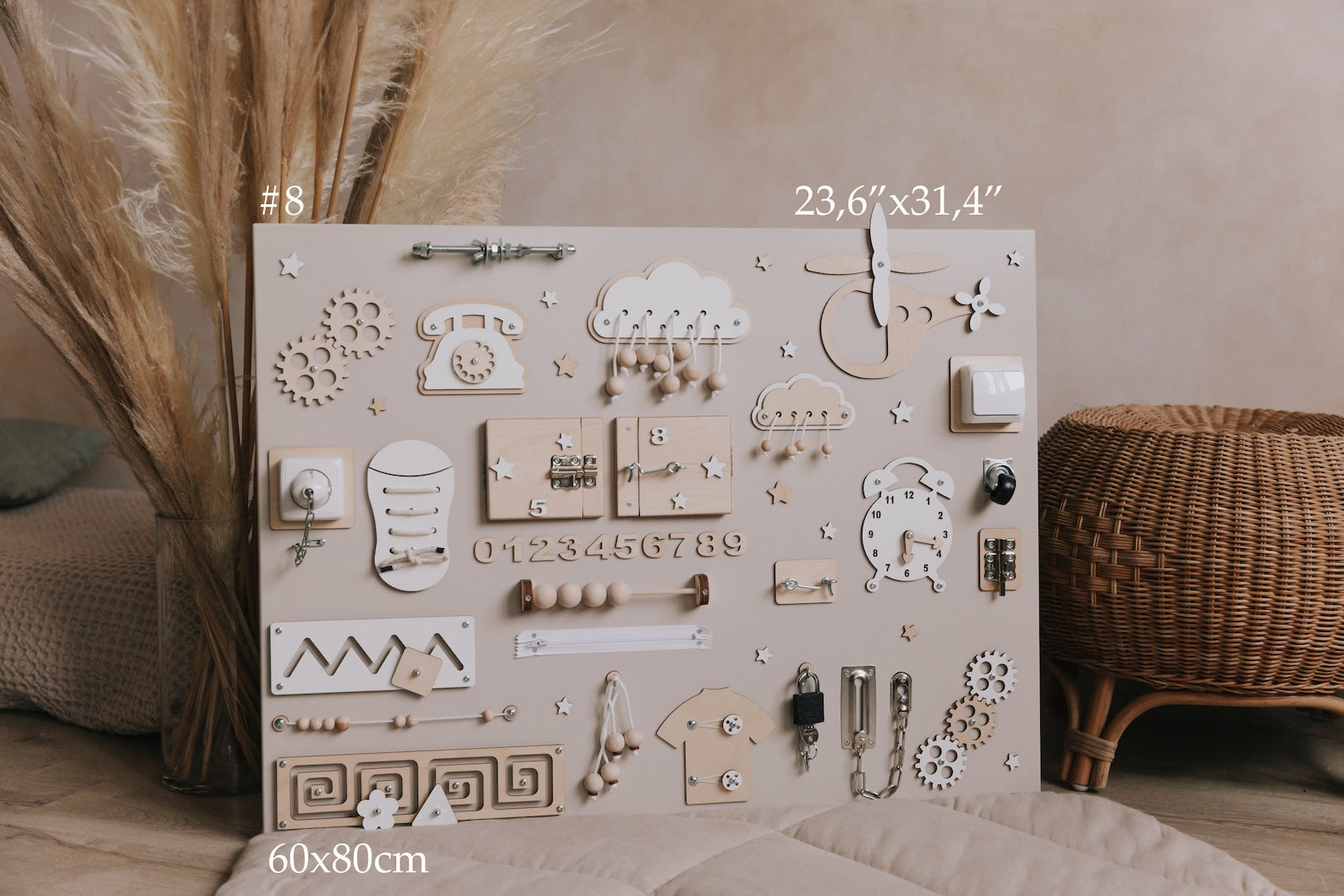 Custom Busy Board, Busy Board for toddler, Montessori busy board, Developing Board, Activity Board, 1st Birthday Gift, Busy board 1 year old
Busy Board for toddler with free and Fast Shipping
• Dimensions: 40x30cm (15.7x11.8")
• Dimensions: 60x70cm (23.6x27.5")
...
Busy Board for toddler with free and Fast Shipping
• Dimensions: 40x30cm (15.7x11.8")
• Dimensions: 60x70cm (23.6x27.5")
• Dimensions: 60x80cm (23.6x31.4")
• Depth: 6cm 2.3inch
Please enter the Name you want on board.
Provide your phone number for the Delivery Company in personalisation field.
(Your phone number will be used ONLY for shipping purposes).
Handmade wooden fidget, busy board enhanced with real-life elements. Let your child explore small real-life elements safely. Entirely handmade and hand-painted from child-friendly elements, smoothened and painted with child-safe, non-toxic paint. A sensory toy that belongs in the Montessori toy categories.
Practical, educational, and decorative educational game. Perfect from 10 months up, for toddlers and pre-school kids. The sensory board promotes play-and-learn excitement with locks, latches, buttons, gears, screws, keys, from metal and wood. A busy board that is filled with fun while serving as a creative tool to enhance the child's learning skills. It is a simple activity that will keep your baby challenged, interested but also has so many different benefits. A child learns new subjects, forms, and colors, stimulates their mind, help keep their hands busy, while allows your child to solve a problem and to feel the satisfaction of opening, closing, resolving the problem
While the sensory busy board is specially made for toddlers, it makes a perfect match for the elderly as well, perfect for adults with dementia or Alzheimer's, as busy boards support hand control, muscle strength & finger dexterity.
MAIN BENEFITS OF THIS GAME THAT WILL HELP THE CHILD'S DEVELOPMENT
- Improves concentration and memory
- Stimulates learning through experiments
- Develops fine motor skills
- Encourages critical thinking
- Improves matchmaking skills
- Shape recognition
- Goal setting
- Problem solving
- Teaches patience
- Builds a sense of achievement
- Improves logical thinking
- Explores the finger grip, touching
Buy it for your baby or gift it. Makes a unique gift for any occasion, and once the children no longer play with it you can display it on a shelf or keep it as a forever keepsake. Makes a great gift for baby shower, birthday, baby welcoming, for new parents, Christmas, etc. This is the type of gift that you can pass down from generation to generation.
ABOUT
• Handmade fidget busy board
• A mixture of real-life elements
• Perfect from 10 months up till 3 years old
• Handmade from natural birch plywood
• Coated with water-based paint that is safe for children
• All the elements are safely fastened
• We can discuss any color, elements, etc to make it special for you and your kids.
• Every corner/edge is rounded over and smooth-sanded and polished, as we do care about kid's little hands being safe during the play
• All materials are SAFE, We do NOT use toxic materials
• Ready to ship
• If you have any questions please contact me
Read More.....
Read less.....
SKU:
051,036,032,047,048,002,049,050,046
Availability:
Many In Stock
Regular price

€135,00

Sale price

€61,00

Unit price

per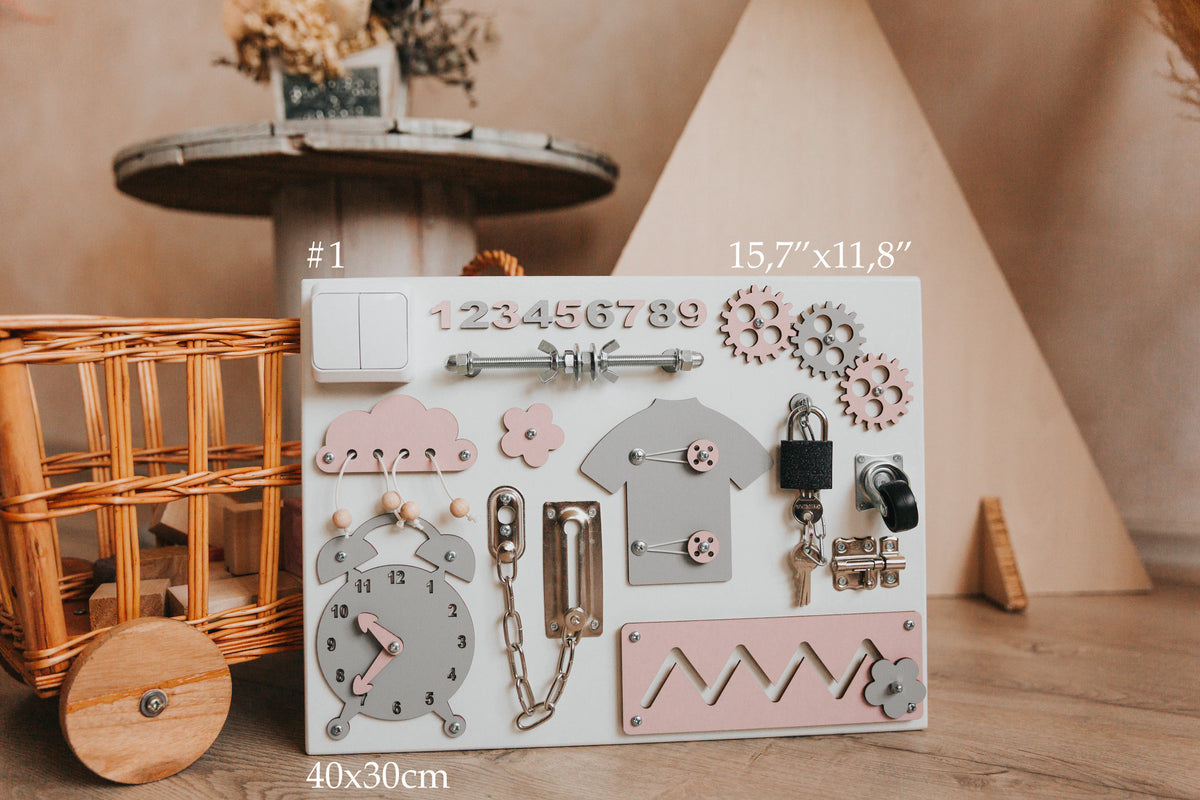 Custom Busy Board, Busy Board for toddler, Montessori busy board, Developing Board, Activity Board, 1st Birthday Gift, Busy board 1 year old